The Human Trafficking Legal Center conducts research through its comprehensive databases to identify trends and spot system failures. The Human Trafficking Legal Center publishes findings to provide the anti-trafficking community with rigorous data, practice guides, and analysis of unmet needs.
Federal Human Trafficking Civil Litigation: 2020 Data Update
In October 2003, Congress passed the Trafficking Victims Protection Reauthorization Act, a law allowing trafficking victims to recover damages from their traffickers in federal courts. This publication updates the data contained in a 2018 report published by the Human Trafficking Legal Center. The report tracks the statute's geographical reach, types of cases, case outcomes, damages awards, and more.
AUSTRALIA GUIDE: Extraterritorial Jurisdiction For Sexual Exploitation of Children in Travel And Tourism
Australian law provides extraterritorial jurisdiction to prosecute Australians who sexually abuse children abroad. Cases of such abuse have arisen in Thailand, Malaysia, Indonesia, and the Philippines. This publication provides guidance to practitioners on how to hold Australian perpetrators accountable in Australian courts.
United States Federal Courts' Continuing Failure to Order Mandatory Criminal Restitution for Human Trafficking Victims
Under federal law, criminal restitution for trafficking victims is mandatory. This mandatory restitution law is currently observed in the breach. This publication, written by the Human Trafficking Legal Center with extensive research and editing by WilmerHale, examines why courts fail to order mandatory restitution for trafficking victims and what can be done to remedy this failure.
Medical Fact Sheet: Human Trafficking and Health Care Providers
Co-authored with HEAL Trafficking, this fact sheet documents incidents that illustrate how human trafficking has presented in health care settings. Citing to federal criminal indictments and civil trafficking cases, this fact sheet is a resource to assist medical professionals in recognizing red flags and risk factors.
Importing Freedom: Using the U.S. Tariff Act to Combat Forced Labor in Global Supply Chains
Federal Human Trafficking Civil Litigation: 15 Years of the Private Right of Action
U.S. Legal Remedies for Minor Victims of Sex Tourism and Sex Trafficking
Prosecution at Any Cost? The Impact of Material Witness Warrants in Federal Human Trafficking Cases
An Advocate's Guide to Tax Issues Affecting Victims of Human Trafficking
IACHR Brazil Forced Labor Case Unofficial Translation
Federal Civil Human Trafficking Cases Involving Allegations of Domestic Servitude
Using the Optional Protocol Under CEDAW to Combat Human Trafficking
Fact Sheet: Human Trafficking & Forced Labor in For-Profit Detention Facilities
Federal Criminal and Civil Trafficking Cases Involving Legal Visas
Human Trafficking and Domestic Violence: Fact Sheet
Diplomatic Immunity and the Abuse of Domestic Workers: Criminal and Civil Remedies in the United States
Trafficking of Persons with Disabilities in the United States Fact Sheet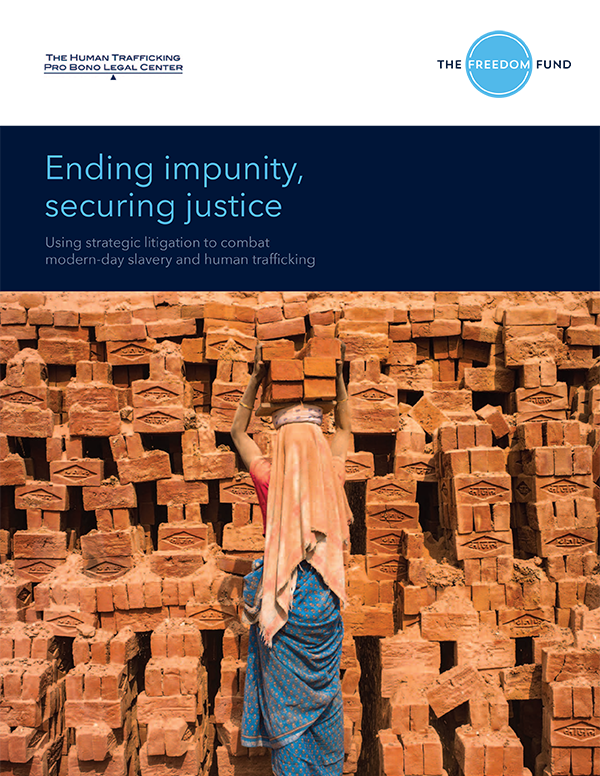 Ending impunity, securing justice: Using strategic litigation to combat modern-day slavery and human trafficking
Breaking the Law: The Failure to Award Mandatory Criminal Restitution to Victims in Sex Trafficking Cases
When "Mandatory" Does Not Mean Mandatory: Failure to Obtain Criminal Restitution in Federal Prosecution of Human Trafficking in the United States
Human Trafficking and Diplomatic Immunity: Impunity No More?
Ahmed v. CoreCivic Amicus Brief Submitted to the Eleventh Circuit
Amicus Brief Urging the Ninth Circuit to Reverse Dismissal of Idaho Labor Trafficking Case
Amicus Brief: Menocal et al. v. The Geo Group, Inc. ​